CBL | Novoferm Garage Doors
CBL are happy to supply Novoferm Garage Doors. Novoferm are one of the world's largest manufacturers of automated garage door systems. Founded over 50 years ago, they now have annual sales in 60+ countries across the globe, totalling more than £2 billion. Novoferm also have over 10,000 employees, each one committed to delivering only the highest quality.They are part of the Sanwa Shutter group, and they have become the world's number one company for metal door systems. Novoferm Garage Doors are renowned for supply roller garage doors, up & over garage doors and sectional garage doors in both timber and steel.
For more information on our range of Novoferm Garage Doors call CBL today 0800 0542 500.
If you look down your street today, you will recognise that every garage will look dis-similar in some way. Novoferm excels at supplying sectional doors in many different designs. Delivering choice for the worldwide market.
Your home deserves to look great and when it comes to choosing to replace a garage door, you want to be able to consider all factors that will ensure longevity of the product. Novoferm understand and therefore offer sectional garage doors that are ingenious delivering bigger benefits.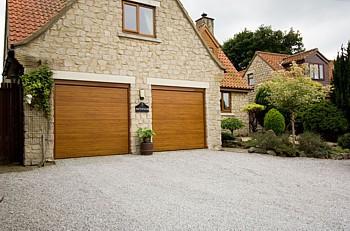 In the safety of protecting your vehicle and belongings every day, you can be rest assured that the sectional door is one of the most useful doors on the market, that's why we make sure that our sectional, and up and over doors are designed to the very best specification. Made of individual sections with hinge connections, the doors will open vertically into the garage with no 'kick out' as it travels, giving you with up to three feet of increased driveway length.
When you choose a Novoferm's automatic range, their programming is state-of-the-art. Its reliable and maintenance free and identifies obstructions.
Visit our showroom today to see our range of Novoferm Garage Doors or call CBL on 0800 0542 500