CBL | Gliderol Garage Doors
CBL Garage Doors are proud to supply Gliderol Garage Doors. This brand has a great range of doors, whether it's the type of door or the design, we're sure there's a Gliderol door for you. For more information contact CBL today on 0800 0542 500 or, visit our showroom and compare garage doors!
Gliderol Garage Doors has been operating in the UK for over 30 years. They manufacture three types of garage doors: an insulated roller garage door, a sectional garage door complete with automatic operators for each door type, and a continuous steel curtain roller garage door. Gliderol's products are suited to a range of  residential homes and commercial properties. Their garage doors have been used in many establishments ranging fromself-storage facilities, residential home garages, to airport hanger doors.
Gliderol's manufacturing of garage doors consist of three types, a steel curtain roller garage door, insulated garage door and a sectional garage door, all of which are automated.
You can choose from a range of colours, patterns which are design seamlessly to suit your home exterior.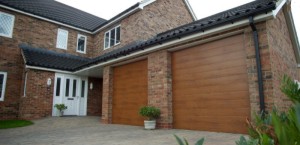 The roller doors provide extra space saving features allowing you to park and use your garage for extra storage. The garages also feature durable weatherseals on the underside of the door maintain a clean, dry and safe environment for your vehicle. Gliderol implement aluminium railings to reinforce the door helping to prevent forced entry.
Gliderol use easy to operate opening functions for any preference of customer. The performance means there is minimal noise and no friction meaning your garage will be reliable for the live of your garage. Their complete luxury of touch-of-a-button operation is the premium operational function you can have for your garage.
For more information regarding any of our high quality brands, contact CBL Garage Doors today on 0800 0542 500.